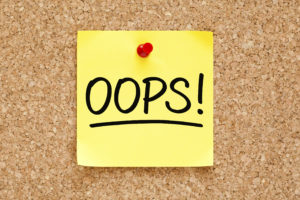 Recently, my daughters and I were taking a road trip to visit a few of the in-state colleges my 18-year-old-baby Grace was interested in.
We were driving north on the Florida Turnpike and passed a brown SUV driving 50 miles an hour with its flashers on. It was causing an unexpected slow-down, and was quite a hazard to the surrounding drivers. When we passed the vehicle, I couldn't help but notice big white Bible verses written all over the back and side windows.
We were hoping they weren't in need of help, and curious to see who was driving, what was going on, etc. We couldn't believe our eyes as we passed the driver side window … a guy munching away on what appeared to be a huge foil wrapped burger or sandwich, smiling and gesturing wildly with his hands to the other passengers in the vehicle … as if there was nothing in the world wrong. Seemed as happy as could be, oblivious to the commotion and danger he was causing.
While I agree that it's important not to be shy about your faith, we should stand out for the good we do, not the in-your-face, Bible-thumping, strange behavior that can scare people away! I cringe when I think what the other non-believers might be thinking when they passed that vehicle … "there goes another one of those weird Christians?"
GOD doesn't want us to make others feel uncomfortable or confused in any way. On the contrary, as believers, we should be the most friendly, relatable, normal, sound-thinking individuals on the face of the earth! Our lives and the way we go about our daily business should reflect JESUS … kind, compassionate, caring, patient … anything but weird!
When others see how friendly, successful, polite, happy… and normal a believer can be, they're definitely more likely to open up and respond positively to GOD!
Of course, it's not just how you look; it's how you conduct yourself every day at work, at home, and in your social life. Whether you realize it or not, people are watching!
Many think being a good witness means evangelizing everywhere you go, but it's just as important to conduct yourself in ways GOD would be proud of. It's our lives, not our words, that pack the biggest punch when it comes to honoring GOD.
JESUS may not be walking the Earth today, but we are. We truly are HIS hands and HIS feet. As representatives of GOD, let's show people how easy and wonderful it is to live a life led by HIM!