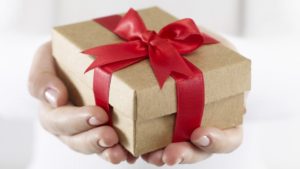 Think of the most successful person you know. Go ahead, I'll wait!
Maybe it's a work colleague, or maybe even a celebrity in the field you want to pursue. You can chalk it up to their smarts, their work ethic, their charisma… maybe even their money!
While these traits can certainly help someone become successful, there's nothing that can compare to the power of the unique gifts that GOD put inside each one of us!
Look at Susan Boyle for instance. If you don't remember, she was the unlikely lady with a beautiful voice that stunned notoriously harsh judges like Simon Cowell on Britain's Got Talent. She was in her late forties, and up until that point she had achieved only local success in her small UK village… but she had always loved to sing, and when she performed for the world singing "I Dreamed a Dream", the gift GOD put inside her was undeniable. The entire audience was awestruck, jaws dropped in amazement, and heads shaking in unbelief!
But this isn't only Susan's story … EVERYONE has a gift. Something that they do with ease that isn't so easy for everyone else!
It could be the gift of singing, storytelling, medicine, writing or speaking, hospitality, or having a heart that wants to serve. The list is endless! And it's not just something they're good at, it's something GOD purposefully put inside them, which can't be denied!
Romans 11:29 tells us that "the gifts and calling of GOD are irrevocable." In other words, it cannot be reversed or lost! Of course, you can try to ignore the gift, or talk yourself out of it, or maybe try to do something that's not your gift at all … but when you embrace it and do what GOD called you to do, great things will happen!
So how do you know what that gift is? You might have a good idea already, but if not, think back to your childhood. My daughter Grace always liked to write, whether it was comics or short stories stapled together on copy paper. After becoming an editor for her school paper (and winning many journalism awards in just her first year!), she is now set to go to college to study journalism in a prestigious program, and she's a ghost-writer for many well respected blogs.
My daughter Rebekah took some time after high school because she didn't quite know what she wanted to do for a career. But after talking with her about it, we both realized exactly what she should be doing: dog grooming! Ever since she was a little girl, whenever we were shopping and see fancy clothes, we'd always make a joke that she could wear that at her dog grooming business someday. She went through dog grooming school, and voila! She's now grooming, and loves it!
When I was waiting to get my car serviced several weeks ago, I was speaking with another mom about her son in college who was still deciding what he wanted to do. I began asking her questions, and within about 15 minutes we had it figured out! As a child he was always the one the other kids would come to when they needed to talk things out … they always sought him out for advice. And we realized the thing he really wanted to do was business consulting!
What about you? What is the unique gift GOD put inside you? Are you fully embracing it? GOD didn't give you specific likes, talents and interests by accident—they're there for a very important purpose! The world is waiting for you to bring your gift into the world.
And if by chance you feel like a "late bloomer" … already spending years not using the gift GOD put inside you … things can change in an instant just like they did for Susan Boyle! Her debut album "I Dreamed a Dream" sold over 9 million copies, and her estimated net worth is now around $18 million!
Remember, with GOD ALL things are possible, and it's never too late to do what GOD called you to do!