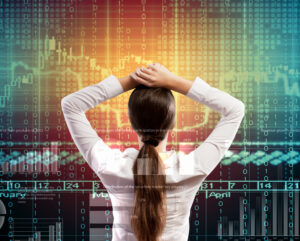 Has this ever happened to you?
You get a brilliant business idea, and you're confident it came from GOD … and you're sooooo excited to move forward with it!  You feel courageous, and you just KNOW it's going to work, but instead of getting started on it right away … you get distracted by social media, or your kids need you, or you have to get ready to go to your "real" job … or any of a bazillion other things you need to do!
And then …
your energy towards that idea is gone! In fact, you wonder what you were even thinking, and you quickly come up with all the reasons it wouldn't have worked anyway … and so you don't do anything!
Every single day I see GOD turning things around for people SUDDENLY!
New ideas, opportunities, or ways of doing things that are being met with GREAT success!
But the one key ingredient?
You need to MOVE when HE puts on your heart to MOVE!
It's funny … I was having a conversation with my oldest son a few weeks ago, who is VERY analytical (he's actually a developer at Microsoft) … so this is what HE's gifted at!  He analyzes everything … because that's how GOD wired his brain … and it's a beautiful and amazing thing!
He also really loves GOD, and we're always having conversations about how to hear GOD's voice, get direction, know when it's GOD leading vs. your own thoughts, etc.
As we were speaking, I said something to him that I never verbalized before … but I believe it's true in many cases:
"Analyzing is the complete opposite of trust!"  (when it comes to GOD)
Now don't get me wrong, there are certainly times we need to analyze things, especially in business.  We need to continually evaluate our efforts and make tweaks so that we can get even better results. We need to analyze whether we should take on a new business partner, hire a particular employee, invest in new software … YES, it's important that we analyze certain things.
BUT … when it comes to GOD leading us … we don't want to over-analyze that!
In fact, it's just the opposite … because many times, what GOD puts on our hearts to do, especially in business, can be counter-intuitive (ie make no sense at all lol) … but will bring great results if we move on it immediately!
But that's actually consistent with how GOD has always done things …
Did it make sense for Joshua to lead thousands of people to march around the walls of Jericho for six days a certain way, and then the seventh day … and blow the trumpet at a certain time, and the walls of Jericho would come down? nope!
Or that Peter (instructed by JESUS) should open the mouth of the first fish he caught and he'd get the money he needed to pay the tax? nope!
Or that a small boy with five loaves and two fish would have enough food to feed well over 5,000 people? nope!
I could go on and on … but here's my point.
Just obey GOD when HE puts it on your heart to do something. Don't over analyze it, just do it!  THIS is when miracles happen!
Now if you're not used to doing this, it's just like working a new muscle.  It may feel unusual and awkward at first, but it is sooooo well worth it. GOD is looking for HIS kids HE can trust to move when HE says move … so that someday, when we meet HIM face to face, we can hear two of the most beautiful words of all time …
"Well done!"
Have a beautiful day, my dear friend, and be brave when it comes to stepping out in faith and trusting GOD. Your life will change, for sure!
I love you and I believe in you!
PS:  If you haven't yet read my book, Make GOD Proud: How to Stop Living Below What GOD Intended for You! click here for your own free digital copy. On page 58 you'll read more about obeying immediately, and in the chapter that starts on page 68, you'll read all about trusting, and tuning into MIRACLES! Enjoy!